VEMS Bluetooth to Serial Adapter
Submitted by jason on Fri, 03/01/2013 - 23:35
Published in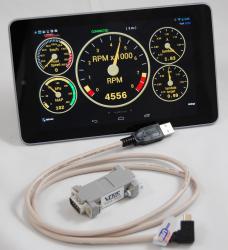 SKU: bluetooth_module
Plug this in to the serial port of your VEMS ECU and connect to your Android tablet or phone running VemsDisplay to display parameters you need to keep track of. In the newest revisions, there is even logging capability!
This is the connection you need for the extremely powerful capability of the VemsDisplay app.
Included is the Bluetooth to Serial adapter and a sheet with the custom PIN code for security. Don't lose it, you'll need to know that PIN to connect a new device.
Power the adapter through pin 9 of the serial port with 5V. This is NOT 12V tolerant, it MUST be 5V. The newest Motronic PnP ECUs (Built in 2013) have 5V supplied on pin 9 of the serial port since they don't have a serial port coming from the ECU connector.
In stock, ready to ship.
(Android display is a Google Nexus 7, and is for example only, not included)